Safety in cars is very important, especially if you have a young family.
Most cars these days are very safe, as the number and frequency of crashes has fallen as safety technology improves. However, your chances of being in a crash increase the less safe your car is, which is why ANCAP (Australian New Car Assessment Program) rates Australian cars based on how safe they are.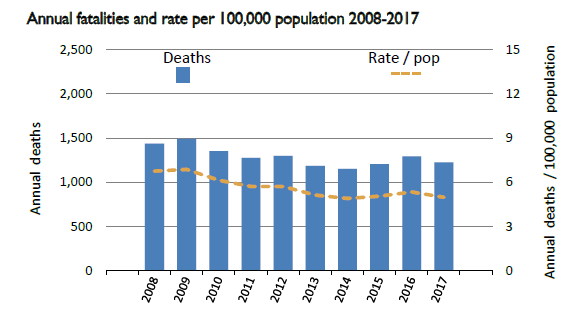 Source: Bureau of Infrastructure, Transport and Regional Economics (BITRE)
If you're looking for a safe car for your children, each of the tables below contains the 10 safest cars available based on ANCAP's Child Occupant Protection rating (COP), which evaluates the level of protection the car offers children seated in a child restraint. This score rates how protective they are for children seated on the side of the car, the front and based on how well the onboard safety features perform.
A car has to get at least 80% of the COP score to get a 5-star ANCAP rating, and we've only considered cars that get a 5-star safety rating, as most new cars are expected to be this safe now.
The 10 safest cars for children
Below are the 10 safest cars in Australia when sorted purely by their COP score.
Data via www.ancap.com.au, accurate as of 2021. Price data via georgie.com.au.
But as you can see, not all of these cars are what you'd consider 'family' cars, as the Mercedes models are a bit fancier and tend to be a bit pricier too.
So we've broken them down further into the different categories of cars which might be more suited to a family with children, such as SUVs and people movers.
Safest medium SUVs
The medium SUV is a larger car designed to be more versatile than the standard passenger car, and are generally a very safe and reliable option for young families.
Data via www.ancap.com.au, accurate as of 2021. Price data via georgie.com.au.
Safest large SUVs
Even bigger than medium SUVs, large SUVs tend to be seven or even eight-seaters that also have some strong offroad capabilities. Common at kids' soccer games everywhere, here are some of the safest around.
Data via www.ancap.com.au, accurate as of 2021. Price data via georgie.com.au.
Safest people movers
Not as flashy as the SUV or a passenger car, the people mover is the type of car you buy for a large family, as they're capable of carrying at least seven people and are built like a hybrid between a car and a van. It's a bit harder to drag race in a people mover, so many of them have high safety ratings…
| | | | |
| --- | --- | --- | --- |
| | | | |
| Mercedes-Benz Marco Polo Activity | | | |
| | | | |
| | | | |
Data via www.ancap.com.au, accurate as of 2021. Price data via georgie.com.au.
Safest large cars
ANCAP considers a 'large' car to include some of the above SUVs, but also larger and roomier passenger cars too. Larger sedans can sometimes be included in this category.
Data via www.ancap.com.au, accurate as of 2021. Price data via georgie.com.au.
Safest medium cars
'Medium cars' are one of the most popular car types worldwide, and include your typical sedan and four-door type car. These cars can represent a good mix of value, safety, style and comfort.
Data via www.ancap.com.au, accurate as of 2021. Price data via georgie.com.au.
What makes a car safe?
The safety rating of a car is based on its structural integrity (how well it protects people inside), the passive safety features it has (like airbags, anti-lock braking systems (ABS), strong seatbelts etc,) and the safety assist technologies, like blind-spot monitoring, reversing cameras and more.
A safe car can be the difference between life and death in serious crashes.
Can you save money with a safer car?
You can't put a price on your family's safety, but you can save some money while also making them safer.
Safer cars are generally easier to maintain and break down less often, and can also save you money on insurance premiums in the event of a crash. They're also not that expensive at all, as you can see quite a few in the tables above with driveaway prices in the $20,000 - $30,000 region. Some new five-star cars on ANCAP are priced as low as $13,000 driveaway.
How to buy a safe car for your family
Well-Designed Boot Space
Look for cargo nets and hidden compartments so that groceries, prams, and sports paraphernalia don't turn the floor of your entire car into an after-school wasteland that can fly about whenever you make an abrupt stop.
It's also a good idea to look for seats that you can fold easily with your hands full, especially if you're looking at a 7-Seat model.
The All-Important Bin
Because children are physically unable to hold onto anything once they're officially done with it, it often ends up on the floor. At best, this is a simple wrapper on the carpet.
At worst, a half-finished yoghurt pouch that really couldn't remain in their little hands a moment longer. Having a built in bin is a great way to keep your car clean between trips to the car wash.
Five-Star ANCAP Rating
Although built in vacuums are a freaking godsend, safety features are what really counts. Five stars by the Australasian New Car Assessment Program (ANCAP) are what to look for. This means that vehicles have performed at the highest level across all crash tests and assessments.
Always make sure you check what year the vehicle was tested in, a 5-Star car from 2010 won't be the same in a crash as a 5 star car from 2021. Visit Ancap to see ratings for most makes and models.
Rear Camera and Sensors
Kids create a lot of noise, which can be distracting when trying to get in and out of a tight spot. Cameras can help alleviate an already frazzled parking experience. Be sure to look for sensors located low around the rear and sides of your car to detect smaller objects while you reverse.
Entertainment
Sick of handing over your precious phone so the kiddies can suck 87 gigabytes of data out of your already ludicrous plan? Rear entertainment is the answer.
Dual DVD options are best (because agreement would be unimaginable) and opt for headphone jacks for each seat to score some sweet quiet time.
If you're on a budget look for charging options like USB and 12v sockets, these will allow you to keep iPads and other gadgets powered up on long drives.
Automated Driver Settings
For those times when shuffling a goddam seat forward or adjusting the mirrors will actually push you over the edge, thank your lucky stars for memory seats.
Whether it's in the form of programmable keys, a driver profile that can be selected on entering or exiting the car, this can make swapping between drivers a whole lot easier, these are the little things that will make a big difference.
Once the preserve of luxury brands, these customisable driver profiles and electric memory seats are now starting to be found as options on family cars like the Nissan Pathfinder, Kia Sorento or the Mazda CX-9.
If you want to buy a car with a high safety rating, then come to carloans.com.au and compare competitive car loan interest rates from nearly 30 different lenders. These low rates can save you hundreds and even thousands of dollars compared to the average car loan, and you can apply quickly without the hassle and stress of going to a bank.
Talk to a friendly carloans.com.au lending specialist today to find out how you can finance a safe, family-friendly car.